Santa María, 18th September 2023 – The PGI Almond of Mallorca is organising the I FERIA DE LA ALMENDRA DE MALLORCA ((1st MALLORCA ALMOND FAIR), next Friday, 22nd September, in Palma's Paseo del Born, from 5:00 pm to 8:00 pm.
The aim of the event is to raise awareness of the PGI Mallorcan Almond and the products made with the Mallorcan PGI Almond among the island's residents, as well as among visitors who come to the island and want to learn more about our culture and gastronomy.
In 2014, the European Union awarded the Protected Geographical Indication (PGI) to Majorcan almonds for the whole of the European Union.
At this first event, you will be able to meet some of the Mallorcan producers who make their products with Mallorcan PGI almonds, such as Bessó de Mallorca, Camp Mallorquí, Almendras Capó, Fet a Soller and La Menorquina. The event will also count on the collaboration of ASCAIB (Association of Cooks Based in the Balearic Islands) who will prepare a tapa made with Majorcan PGI Almonds.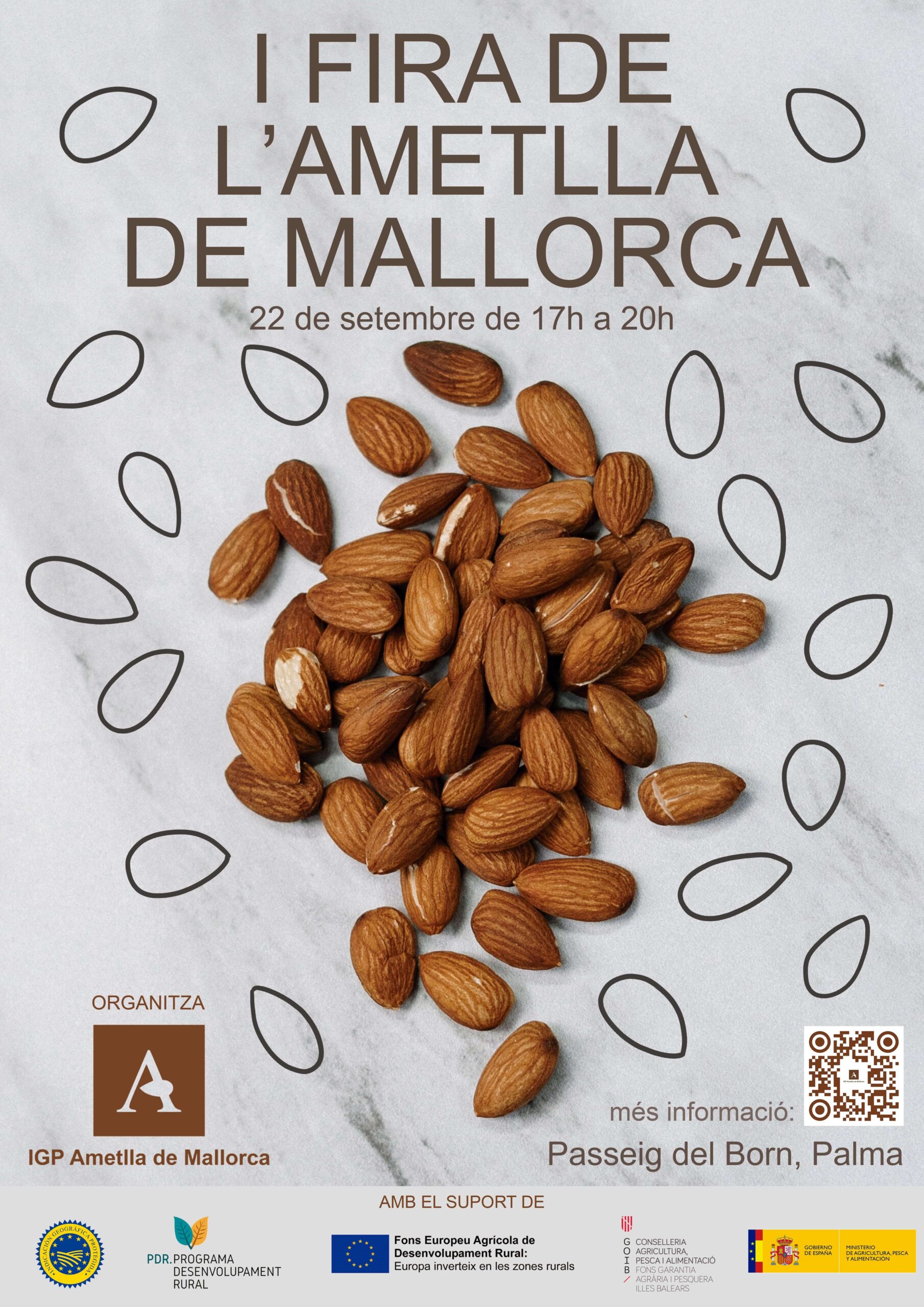 This exhibition is organised to highlight the mission of the "Consejo Regulador de la Almendra de Mallorca" (Majorcan Almonds Regulatory Council), to promote the differentiation of an agricultural product, such as the Mallorcan almond, with unique characteristics provided by the island.
The PGI Almond of Mallorca is organising this first edition, thanks to the support of the Ministry of Agriculture, Fisheries and Food, the Department of Agriculture, Fisheries and Food, the European Agricultural Funds for Rural Development, the Rural Development Programme and the Regulatory Council of the Almond of Mallorca. The aim is to make it an annual event to continue to promote the value of the Majorcan Almond PGI.
PGI Almond of Mallorca is the quality designation that guarantees the link between the almond and its origin, and endorses the methods used to obtain a product that stands out for its excellence and flavour.
The mission of the Regulatory Council is to promote the quality of an agricultural product with unique characteristics provided by the enviroment and that is why for the PGI Ametlla de Mallorca it is very important to preserve the landscape, products and gastronomy associated with the almonds of Mallorca, with the aim of preserving and guaranteeing the viability of the farms and industries that work with almonds.