Barcelona, April 5, 2022 – The PGI Ametlla de Mallorca participates in the Quality Food Network project promoted by the Euroregion Pyrenees-Mediterranean.
Framed in the Alimentaria Fair in Barcelona, a meeting of knowledge and networking has been organized. The day began with an unprecedented cooking contest to recognize the 'Best Euroregional recipe made with PDO and PGI products from the Balearic Islands, Catalonia and Occitania' in which the PGI almond from Mallorca was present in different dishes.
The winner was the chef representing Catalonia, Eric Montesfort, who prepared a dish seasoned with Majorcan almonds. The ingredients used in this fusion dish in addition to the Majorcan almond IGP have been ingredients from the Balearic Islands, Catalonia and Occitania such as: DOP Lleida pear, calçots de Valls; Forvm Chardonnay vinegar, OOVE DOP Empordà, Laguiole cheese, Reus hazelnut, pa de pagès, sobrasada de Mallorca, honey from Cévennes.
For his part, the chef representing the Balearic Islands, José Maria Borras, used Majorcan IGP almonds in his fusion dish of the three cultures, together with baby squid, calçots de valls IGP, Cerdanya cheese, Cévennes honey, Majorcan IGP sobrassada, Cadí butter and Majorcan DO oil.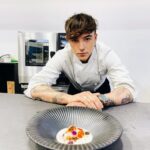 Antoni Bonafé, president of the Regulatory Council of the Protected Geographical Indication Ametlla de Mallorca "it is important to promote our Mallorcan almond outside our island because it is a product well recognized for its great organoleptic quality".
After the presentation on short circuits given by Fabien Santini of the European Commission, the PGI Ametlla de Mallorca participated in the round table "Tourism experiences as a strategy for the enhancement of the landscape and local products".