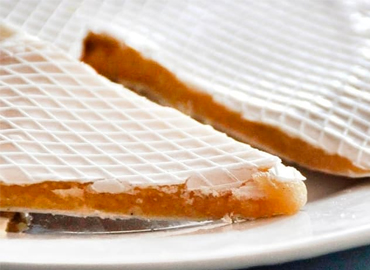 Mallorcan nougat cake is a very easy recipe to make, in which the main ingredient is almond.
Ingredients:
– 4 wafers (neules)
– 200 gr ground almonds
– 180 g sugar
– Cinnamon powder
– 1 lemon
– Half orange
Preparacion: 1. Wash a lemon and grate its peel into a bowl. 2. Squeeze an orange and add the juice to the bowl. 3. Add the sugar and cinnamon powder, to taste. 4. Mix and melt the sugar by hand. 5. Add the ground almonds and mix until a uniform dough is formed. 6. With a brush dipped in water, evenly wet the edge of a wafer. 7. Place the almond dough in the centre of the wafer. With a damp cloth, carefully press the dough until it is spread all over the wafer, without reaching the edges. 8. Brush the edge of another wafer with water and place it on top of the dough that has just been rolled out. With your fingers, seal the two wafers together.